https://www.youtube.com/watch?v=uA8Uw9fcB20
LUXURY WEDDING VIDEOGRAPHY
Cincinnati | Columbus | Lexington | Destination Weddings Worldwide
We don't settle for wedding videos. We shoot wedding films.
2 Primary Styles of Video:

Highlight Videos
This is our stylistic video! Coming standard in every collection, this video has the best clips from every part of the day filmed cinematically. We put this to music with the option to add on audio from letter readings, toasts, vows, and more. Perfect for getting a feel for the day in a shorter amount of time. This is your video for social media posts and sharing with friends! Including add-ons like drone video help push these videos to new heights. These start at 5-6 minutes and can be upgraded up to up to 8 minutes.
Extended Videos
Wanting more long-form content? Look no further!  Starting at 60 minutes, you will experience your full ceremony, toasts, first dances, letter readings, and more! There are also more clips that couldn't fit into the highlight video included. RAW video and be hard to sort through and isn't glamorous, but with this video, we sort through it for you and edit it for a more premium feel. Perfect for a movie night at home with your soon-to-be spouse or family! Included in our Emerald and Diamond Collections.
Check out our Featured Wedding
This wedding brought beautiful locations, bright personalities, endless smiles, and sentimental vows. Vivian and Josh's video combines the luxury, cinematic feel with our playful and romantic editing style, creating something truly unique.
Want to know what goes into your wedding videography at Aspire Imagery? We vlogged one of our weddings so you could see the process from start to finish.
– ASPIRE HIGHER –
What Sets Us Apart From Other Videographers?
We shoot our videos on a movie-style cinema camera to get the highest quality possible for our wedding videos.
Coming from a movie-making background, we implement skills used in films to make your videos as cinematic as possible.
We record 2-3 tracks of high-quality sound from letter readings, ceremony, and toasts to make sure you always have clean audio.
It's not enough to record a beautiful wedding. Engaging, story-based editing is essential to driving the emotion behind a video. We highly prioritize strong editing.
– ADD ONS –
Customize Your Package!
Drone Video
Adding drone video to your package puts eyes in the sky! Our 4K capable Mavic Drone adds a unique and cinematic angle to your videos. We bring out our drone to film your venue while also using it to get more stylized shots during couples' photos.
Included in our Diamond Collection at no additional cost.
Voiceover for Highlight Video
Capturing a wedding isn't just about the visuals. Being able to hear the most powerful moments from your day helps tell your story in a more visceral way. We record high-quality audio from 3 sources during important moments such as letter readings, the ceremony vows, and reception toasts.
Included in our Emerald and Diamond Collections at no additional cost.
Second Shooter
While we are able to film most events with one shooter, bringing on a second team member adds several benefits. This increases the number of unique shots and angles that can be filmed at a single time, adds reliability that we will never miss a moment, and allows for more flexibility throughout the day.
Available to add on to any collection.
Looking for our most Exclusive Collection?
Weddings are more than just the big day. Bring us along on your journey.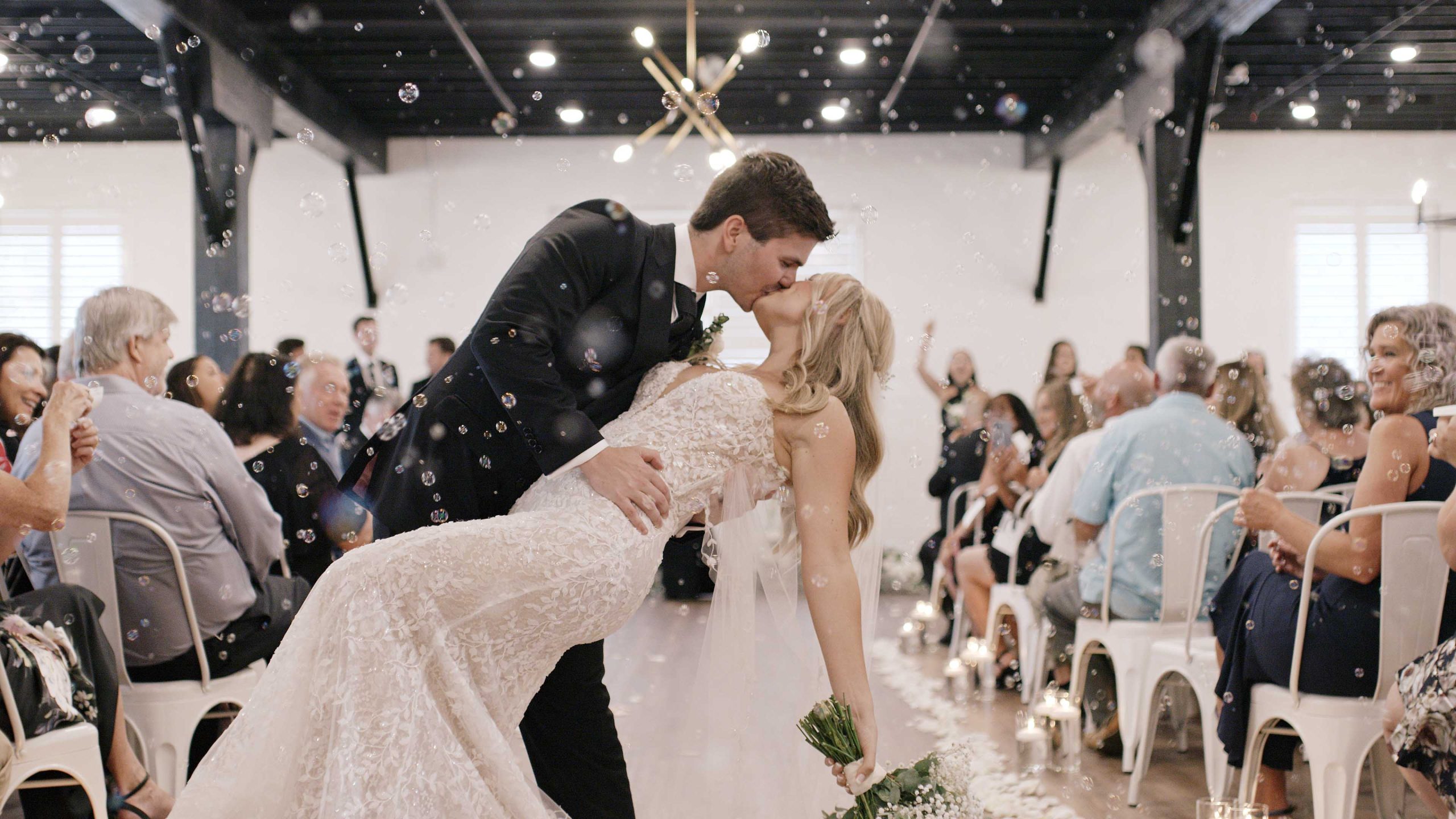 More of our Favorite Wedding Videos
Reviews
Read what other couples are saying about our work
"I was lucky enough to book Brett/Aspire Imagery at the last minute and am SO happy with his work! I was hesitant to do videography for my wedding due to seeing the videographers being disruptive at other weddings I've been to. For me, my experience and the experience of my friends and family was the biggest priority and I didn't want that to be impacted. I saw other reviews of Aspire Imagery and how those reviewers never even noticed Brett there. I completely agree with those reviewers except that it was very hard not to notice how kind and easy-going Brett was. We had a lot of different ceremonies for our Indian wedding, and it seemed like Brett was another friend who was excited and happy to be there. If you get the chance to work with Brett and his team, I really REALLY recommend him. The video he edited together has made me and all of my family/friends cry multiple times. It feels like we're back to those few days, reliving all these special moments. I'm glad I was able to work with someone that prioritized the importance of staying present, and now I get to watch and feel all those beautiful feelings all over again."

Anupreet L.

Diamond Collection
"We LOVE Brett and his amazing videography skills!!! From his professional manner to movie-quality videos... he is just THAT good! The cameras he uses are of incredible quality, and he handles them with such ease and always gets the shot. Before our wedding, it was so easy to talk through our vision with Brett and he captured the vision absolutely perfectly. When we watch our video, we're able to relive the whole day the exact way that it happened. Hiring Brett as our wedding videographer was genuinely one of the best decisions we made during wedding planning, and we will be reaping the benefits of our decision for the rest of our lives. Do not hesitate to invest in Brett as your videographer!!!"

Maggie B.

Gold Collection
"As someone who works in video production, I wasn't looking for the run-of-the-mill wedding video for our big day. I wanted something with dynamic movement, beautiful imagery, and overall creativity - and Brett delivered. He had all the gear (a drone, steadicam, etc) that I wanted to see and between his videography and his editing abilities, I can say he's very talented. A wedding video is something that seems "extra" in the wedding budget, but I'm genuinely happy that we pulled the trigger and have the video to remember the day. Very happy with how everything turned out!"

Tim D.

Emerald Collection
"I want to start off by saying how professional Brett was... I couldn't have been any more impressed. Brett made sure to capture the very traditional parts of the [wedding] night but also was able to give our highlight video and longer video a unique twist with his edits, music choices, and organization. I will forever recommend family and friends to Brett and can't wait to see the continued amazing work he creates in the future."

Veronica L.

Emerald Collection
"Aspire Imagery... was wonderful to work with and did a fantastic job. He demonstrated professionalism in every minute of the process that he spent with us. Brett made my son and daughter-in-law feel very comfortable throughout the day. I highly recommend Aspire Imagery to anyone looking for a videographer. ABSOLUTELY amazing wedding video!!"

Lisa S.

Emerald Collection
"Brett so great to work with you. He was super flexible in meeting the needs of our wedding, and the final products were absolutely amazing. It was so great to relive our day through his lens, especially because the day went by so fast and we weren't able to present for all of the special moments. Highly recommend!"

Keely W.

Gold Collection
"Brett was on time and the most professional vendor we had the day of my daughter's wedding. He captured all the best moments that I myself didn't see ... When we received the video - it was priceless... He was so respectful and courteous to the entire wedding party. I am so grateful we found Brett and decided to video. He captured the smiles and tenderness of the day perfectly!!! ...I would highly recommend Aspire Imagery!!!! Brett was Awesome!!"

Karen E.

Emerald Collection
"Aspire Imagery did such an amazing job capturing our wedding day, I loved being able to watch the details of my husband getting ready and listen to him answer questions before our ceremony. Brett asked the perfect questions, we love being able to watch our extended video back and relive our favorite day. We just celebrated our 2 year anniversary and decided to make it a tradition to watch it on our anniversary. I'm so thankful to have found Aspire Imagery to make our wedding video everything I could have imagined."

Lexi C.

Emerald Collection
Investment
Luxury Wedding Videography at Aspire Imagery starts at $2700